Hundreds of thousands of wild animals are killed, injured and orphaned throughout Australia as a direct consequence of human activities. Assisting wild animals which have been injured or orphaned is an important part of respecting and valuing our environment. That's why the Conservation Ecology Centre supports the rescue, treatment and rehabilitation of animals so that they can be returned to the wild.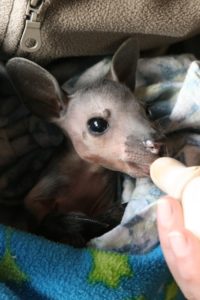 What to do if you find injured wildlife
If it is safe for you to do so, consider taking the animal directly to your nearest veterinary clinic for assessment. Most vets will not charge to treat native wildlife. Use a towel or blanket to cover the animal, pick it up gently and firmly, and place it into a well-ventilated box for transport. Keep the animal warm, dark and quiet and do not attempt to give any food.
If transporting the animal yourself is not possible, please stay with the animal, cover it if possible and keep an eye on it from a short distance away. Make a note of your location and call the local Wildlife Hotline – they will be able to assist you and put you in touch with local wildlife rescuers.
Local Wildlife Hotlines
VIC: 1300 000 WILDLIFE (1300 000 94535) – Wildlife Victoria
VIC: 0417 380 687 – Help for Wildlife
NSW: 13 000 WIRES (13 00 094 737) – WIRES
QLD: 0430 904 415 – Australian Rescue and Rehabilitation of Wildlife
Safety Notes
Please note that some animals can be dangerous when injured or stressed, or may be particularly susceptible to stress if handled incorrectly. These include large animals and their young such as kangaroos, wallabies, wombats or koalas, and also bats, snakes and birds of prey.
These animals should be handled by an experienced rescuer or wildlife carer to avoid injury to you, or further stress or injury to the animal.
Car accidents account for most wild animals requiring rescue and care in Australia – watch a rescue here:
Wildlife rehabilitation is all about releasing healthy animals back to the wild – watch a release: