Cape Otway Ecological Burns Program wins Fire Awareness Award
In partnership with the local CFA (Country Fire Authority) and the Southern Otway Landcare Network, the Conservation Ecology Centre has instigated the Cape Otway Ecological Burns program – helping restore Cape Otway's woodland, whilst simultaneously managing the bushfire risk this poses to residents and tourists alike.
The program was recognised at the Fire Awareness Awards on 4 December where it took out the Community Prevention and Preparedness prize.
Cape Otway is a remote community in the Otways, surrounded on three sides by the Great Otway National Park. Over the course of the last 20 years, many of the private properties in the area have undergone significant changes in land use.
Residences, tourist facilities, and holiday houses have replaced traditional agricultural businesses. This has led to a change in land management regimes, instead of grazing, cutting hay and burning off, the properties have effectively been left to return to a more 'wild state'. This process led to a change in the vegetation type on Cape Otway, transitioning from open woodlands to coastal scrub with intermittent patches of long unburnt stringybark forests.
This entirely altered the hazard posed by fuel in the area. The increasing dominant mid-storey vegetation combined with the long unburnt nature of the stringybarks, to make likelihood of crown fire and ember attack vastly greater in the case of a wildfire. This had become of grave concern given the burgeoning number of holiday houses and tourists that visit the area during summer, which could see as many as 500 people on Cape Otway at any one time with only one road in and out.
The change in vegetation was also having a detrimental effect on biodiversity. The dense layer of shrubs which were invading from the coast into the Cape's woodlands, were blanketing the diverse grass and herb species which were one the regions ecological feature. Also, numerous species of native plant were no longer germinating, including the eucalypts.
Over the last 5 burn seasons we have conducted 19 burns on 14 private properties covering almost 70ha. The program has had four beneficial results:
overall fuel hazard has been reduced
plant diversity is increasing
a perfect planting ground has been prepared for the planting of trees to restore the habitat
and a conversation has been started within the community around fire safety.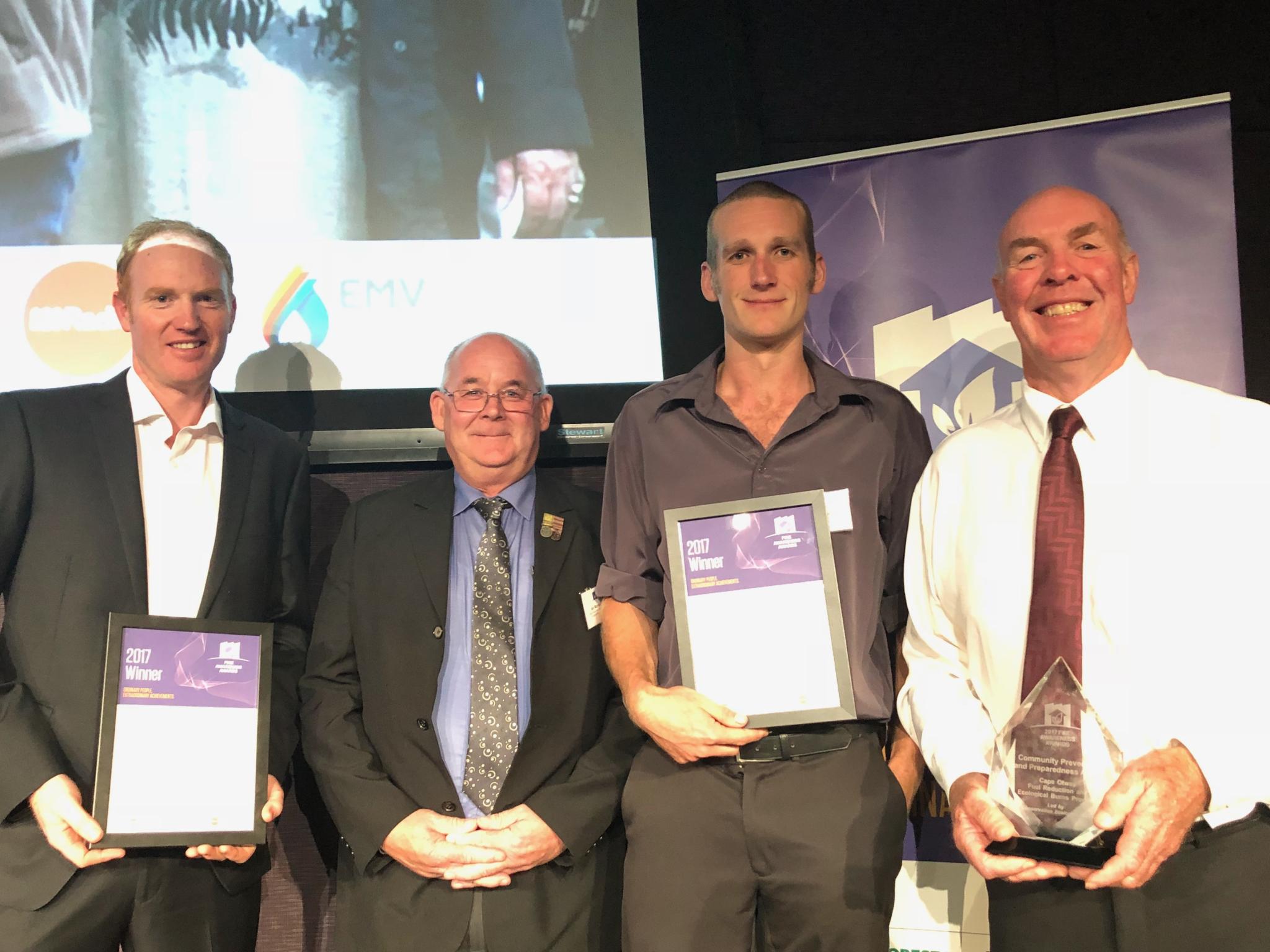 Shayne Neal (CEC), Mike Evan (CFA), Jack Pascoe (CEC) and Ian Morrison (CFA)receiving their Fire Awareness Award.