Super Ted needs your help to save endangered Tiger Quolls
Ted was a malnourished and abandoned Bullmastiff mix when Lizzie (CEC Founder) and her family found him at a local shelter.  His droopy-lipped smile and wrinkled brow was irresistible and as he folded himself into the armsof Tess – Lizzie's four-year-old daughter – she knew that Ted was going to be part of her family.
"He's so cuddly, like a Teddy Bear", said Tess.  And, so he became known as Ted.
Ted settled into life at the Conservation Ecology Centre, quickly learning to leave the wild kangaroo mobs alone, walk quietly around the recovering orphaned koala joeys, welcome visitors to the property and sit immediately at the site of a snake.
However, it wasn't until the Conservation Ecology Centre developed the Conservation Dogs program to help find endangered Tiger Quolls that Ted's zest for life and eagerness to please reach a new exciting level.
The Conservation Dogs program is extremely special.  Imagine a family's beloved pet dog also being an asset in wildlife conservation, helping save another species from extinction.  It's an inspiring thought isn't it?  With your support, that's exactly what The Conservation Dogs are hoping to do.
The CEC is aiming to build a team of ten Conservation Dogs.  Currently they have four qualified dogs and six that still need to complete different stages of training – including Ted.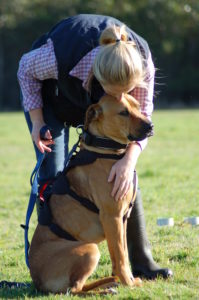 "It's important we have a big team of dogs and handlers to make this program successful.  Once trained, the dog will be able to move quietly through the forest, detect a Tiger Quoll scat, and then alert their handlers to the find by lying down silently alongside it – thus having minimal impact on the wildlife and the environment" Lizzie explains.You can imagine how much must go into training a dog to work in this way.
However, on April 30, Lizzie and her team will need to have raised $40,000 in order to continue the training of the remaining 6 dogs – including Ted.
"Because I have seen Ted's progress firsthand in this program, I am such a believer in the potential of the Conservation Dogs and am determined to see it through" Lizzie said.
The sooner the CEC can train the Conservation Dogs and acquire the necessary supporting equipment, the sooner they can find and better protect the Tiger Quolls before it's too late.If you can help, please donate now.  In order to carry on with the Conservation Dogs program and train dogs like Ted, it's essential the CEC raise $40,000 by April 30 this year.Your gift, no matter how large or small will help.  Please donate now.

Donate now