Who's up for the Big Otway Tree Plant?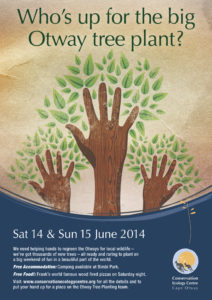 Join us on a special weekend, planting trees to restore the woodlands of Cape Otway.
The little trees are growing and 14th and 15th June 2014 will see the biggest planting effort the Otways has ever known!
There's free camping (thanks to Bimbi Park) and a pizza night starring Frank's world famous wood fired pizzas, you'll make new friends and the whole weekend will be lots of fun. We'd love you to join us!
Learn more about the Big Otway Tree Plant.
Download the poster here: The Big Otway Tree Plant