Steve Bracks Praises Public Support for Koala Habitat Restoration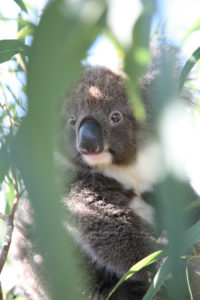 Right now, koalas in Cape Otway have a reason to hope. After an incredible show of public support, the Conservation Ecology Centre (CEC) is close to raising enough funds to purchase a piece of land that will be transformed into a haven for koalas and other native animals. CEC Patron, the Hon. Steve Bracks AC, couldn't be happier:
"This part of Australia has long been close to my heart and holds incredible potential for the future of our native wildlife. I've been truly inspired by the support Australians have shown for the project so far."
The CEC, a conservation and wildlife rehabilitation centre, launched the fundraising drive in April with a visionary plan. Once the land is purchased, they will turn it into the 'Manna Gum Reserve' – a habitat corridor for Australian wildlife and a model for future habitat restoration.
Mr Bracks explains:
"The creation of the Manna Gum Reserve will increase natural habitat areas, augment the link between the Great Otway National Park and the Conservation Ecology Centre and enhance the Centre's conservation work. A public walking track will also provide locals and tourists an insight into the importance of this area. With only two weeks left to secure the funds,we're hoping Australians will continue to get behind this fantastic project."
A generous grant from The R E Ross Trust combined with the first rush of public support has brought the CEC close to their goal of $145,000. But there is still a way to go. By June 30, another $35,000 is needed.
The Conservation Ecology Trust welcomes sponsorship and donations. Contributions to this landmark conservation effort will enable the restoration and revegetation of this
important piece of Australia and ensure it remains protected for future generations to enjoy.
With the end of the financial year fast approaching and all donations over $2 being tax deductible in Australia, now is the perfect time to lend your support.