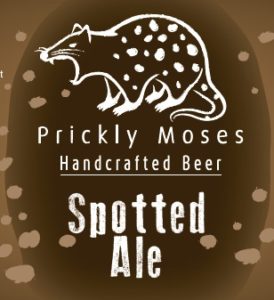 It is well known that you need good water to make good beer and there's nothing better than water from the lush forests of the Otways. Blessed with the availability of pure Otway rainwater, Prickly Moses Brewing brew all their beers with this 'gift from the gods'.
Prickly Moses Brewing became partners of the Conservation Ecology Centre in 2013 and this is proving to be a very exciting development for the wildlife of the Otways. In February 2013 'Spotted Ale' was launched at The Age Harvest Festival, a special beer from which 100% of profits to wildlife conservation. A great beer for a great cause!
Andrew Noseda, CEO of Prickly Moses Brewing, said the partnership was a natural step for the company. "We are committed to the region, our beautiful natural environment and our community. Through the creation of this premium boutique beer, 'Spotted Ale', we are making a meaningful contribution to keeping Tiger Quolls safe in the Otways and beyond."
Tiger Quolls are the largest remaining marsupial predators on the Australian mainland but their numbers are in serious decline. Though the Otways was traditionally a stronghold for these animals, there was no confirmed evidence of Tiger Quolls in the region for nearly a decade. That was until scientists at the Conservation Ecology Centre rediscovered the elusive species through DNA analysis. Since then there have been five pieces of evidence of quolls from different parts of the Otways.
Conservation Ecology Centre CEO, Lizzie Corke, couldn't be happier. "The Otway region holds incredible potential for the future of our native wildlife. We need innovative approaches to ensure the future of these precious species and this partnership shows just how our community can work together for very exciting outcomes."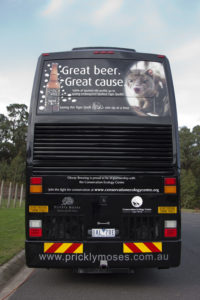 Learn more about the Tiger Quoll.
Learn more about Prickly Moses Brewing.
Order your Spotted Ale now directly from Prickly Moses, or via Dan Murphy's for nationwide delivery!
Help save the endangered Tiger Quoll one sip at a time.
And look out  for the Prickly Moses Brewing bus at the festivals around the country, holding a bar and a mobile brewery it is the ultimate conservation awareness raising vehicle!