The most exciting wildlife conservation initiative the Great Ocean Road has ever seen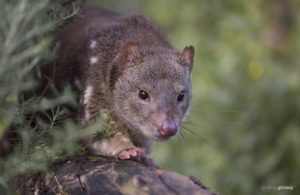 Something incredibly exciting has happened! With the support of The Ian Potter Foundation and The Norman Wettenhall Foundation, the Conservation Ecology Centre is developing the Otways Threatened Species Research Network, bringing together partners across government, universities and the community.
One of the greatest risks to wildlife populations has been a severe lack of information, and these knowledge gaps have stalled conservation efforts. No one knows the size of threatened species populations in the Otways, their distributions, or the effects of various threats. As you can imagine, this makes things very difficult for directing and measuring conservation efforts.
Working with our partners, we have compiled and collated information collected over decades to create the Otways Threatened Species Database. This information, together with the co-operative approach it represents, provides a strong base for driving conservation. We now have a comprehensive dataset that enables us to analyse information, identify key knowledge gaps and then target research that will lead directly to conserving threatened species in the Otways.
This is where we really need your ongoing support.
The Otways still supports populations of species which have been lost from many other places – including Tiger Quolls, Long-nosed Potoroos, and Long-nosed Bandicoots. However, without decisive action, these precious species could vanish from our forests and heathlands forever.
Through critical field research we can develop best practice land management solutions and effective plans to restore these threatened wildlife species across the Otways – but we need to act quickly and we need to take a scientific approach in order to be successful.
We need to raise $32,000 to fund the Otways Threatened Species program.
The extra funds raised for this project will enable us to:
– equip our ecologists with vital research equipment such as GPS tracking devices and camera traps.
– support the training and field deployment of the Otways Conservation Dogs.
– support ecological field work for threatened species across the Otways, developing solutions and driving change for threatened species.
 The challenge is great and we must be strong, innovative and strategic in order to protect these precious species and the ecosystems on which they depend.
All the Conservation Ecology Centre's achievements to date have been thanks to the support of our community – across the Otways and across the world. It is your help in the past that has assisted in the protection and restoration of key wildlife habitat areas, the creation of the highly regarded Otways Conservation Dogs program and the rediscovery of endangered Tiger Quolls in the Otways – incredible steps forward for threatened species conservation.
This project will chart a clear course for effective conservation, not just for Tiger Quolls, but for all threatened species in the Otways and beyond.
Will you join us in this landmark effort? Together we can ensure a future for wildlife and wild places.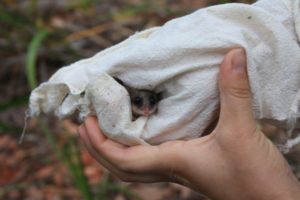 An Eastern Pygmy Possum – weighing only 40g these little marsupials are vulnerable to predation by feral cats and foxes. Through this program we can help protect them from this threat.
Are you interested in more details regarding this appeal? Please contact lizzie@conservationecologycentre.org
Are interested in more details regarding the Network? Please contact mark@conservationecologycentre.org