Otways Conservation Dogs on deployment – The AGE
Thanks to you the Otways Conservation Dogs have just completed their first deployment. Tim Young from The Age joined the team – here is his story:
Sniffer dogs search for endangered tiger quolls in Grampians National Park

Read more and see the video at The Age. 
Teams of highly trained sniffer dogs have been roaming a remote section of the Grampians National Park in an effort to find the endangered tiger quoll.
A camera, installed to monitor a colony of brush-tailed rock wallabies, snapped a picture of a quoll late in 2013. It was the first confirmed sighting in the Grampians in more than 140 years.
Surprised and excited as they were by the discovery, Parks Victoria rangers like Ryan Duffy weren't sure how to proceed. But they soon heard about a team of conservationists with a dog program at Cape Otway, and a perfect partnership was born. "Looking for a quoll in the Grampians landscape is like looking for a needle in a haystack," said Mr Duffy.
"You need to try every technique that's available to you, and the conservation dog program brings a really unique tool to the table."
For the Conservation Ecology Centre in the Otways, the timing was perfect. Following the last confirmed quoll sighting in the Otways two years ago, the Centre created a conservation dogs program. Since then they've trained a dozen dogs to sniff out quoll scat in the forest. The dogs need to be energetic and obedient, and the teams must pass strict tests before they are certified for field work.
Made up entirely of volunteer handlers, the program graduated its first five teams shortly after the Grampians quoll was discovered and, instead of heading into Cape Otway, the dogs were dispatched to the Grampians.
The Grampians deployment saw dogs scour land north of the Moora Moora reservoir. No quoll scat has been discovered, but based on how the dogs performed, the search is being called a great success.
"If there was scat out there we're 100 per cent confident we would have found it," said dog trainer Luke Edwards.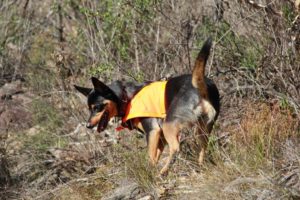 An apex predator, tiger quolls are the mainland's equivalent to the Tasmanian Devil, but their numbers plummeted following the introduction of foxes and cats.
An aggressive fox-baiting program is in place in the area the quoll was photographed, and it's hoped this might allow tiger quolls to thrive again.
Parks Victoria is negotiating to bring the Otways dog teams back in the spring, when quolls might be more active and, hopefully, nursing young.
Read more and see the video at The Age or below.