Manna Gum Reserve is a reality!
We are delighted to announce that today the title for this special piece of land was transferred to the Conservation Ecology Centre.  It is the first, very exciting step in creating an important habitat corridor and a safe haven for koalas and other wildlife.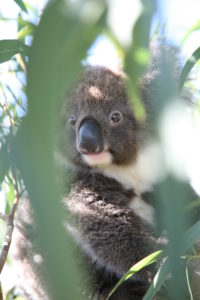 We have very nearly raised all the funds required to finalise the purchase but are not quite there yet. In view of that, we have negotiated an arrangement with our neighbours who are selling the property to pay the balance of the price to them over a period of time – we are very grateful to them for being so flexible. Until the full amount is paid, our neighbours will continue to have access to the property for their farming activities. Once the balance is paid, we will be able to commence our work to restore the habitat to transform the property into Manna Gum Reserve, providing for the safe movement of wildlife across Cape Otway.
With your help and a very generous grant from The R.E. Ross Trust we have already raised $116,185 and have just $28,815 to go! To help raise this final amount you can donate easily and securely online or call (03) 5237 9297.  We can't wait to invite you to see the little Manna Gums growing!