Founders
Lizzie Corke (CEO) & Shayne Neal (Infrastructure & Interpretation Manager)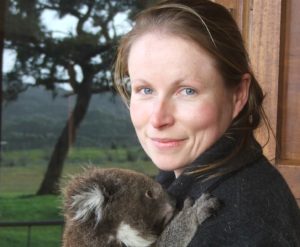 Lizzie graduated from Melbourne University in 2000 with a degree in Zoology, while Shayne complemented his Diploma in Wilderness Reserves and Wildlife Management from Queensland University with a degree in Natural Resource Management from Melbourne University.
Understanding the importance of caring for ecosystems and the imperative for inspiring and engaging others in conservation, together they founded the Conservation Ecology Centre. To assist in delivering the mission of the CEC, Lizzie and Shayne created the Great Ocean Ecolodge in 2004. The Ecolodge is a social enterprise, named by National Geographic Traveler as one of the 25 best ecolodges in the world and a Finalist in the National Geographic Society World Legacy Awards.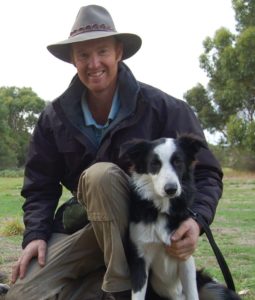 In 2005 Lizzie was named the Prime Minister's Environmentalist of the Year (the first female and youngest-ever recipient of the award) and in 2007 Lizzie and Shayne were recognised by the Australian Geographic Society with the prestigious Conservation Award for dedication to protecting Victoria's threatened wildlife through rehabilitation, conservation and education. She is currently studying via correspondence through the Queensland University of Technology.
Shayne is the 2013, 2014 & 2015 Australian Ploughing Champion. Lizzie is a Director of Ecotourism Australia and Chair of the Corangamite Catchment Management Authority Community Advisory Group.
 Conservation and Research Team
Conservation & Research Manager: Dr Jack Pascoe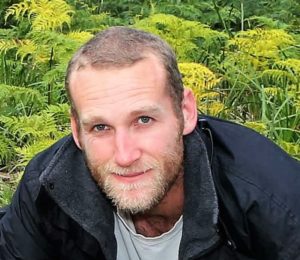 Jack joined the Conservation Ecology Centre in 2012 to manage the ever growing Conservation Programs. Jack grew up at Cape Otway before leaving to study Science at Deakin University and going on to complete his PhD with the University of Western Sydney where he studied the ecology of predators in the Blue Mountains. His key fields of expertise are conservation and wildlife biology and previous research topics have included wild dog ecology, lace monitor home range, the distribution of large forest owls and the interactions of exotic predators with native carnivores like the Tiger Quoll. Immediately prior to joining the CEC, Jack worked with one of our project partners, the Southern Otway Landcare Network, primarily focusing on mitigating the impacts of pest plants and animals throughout the Otways.
Jack is Chair of the Otway Community Conservation Network, is President of the Hordern Vale Glenaire Landcare Group, Vice President of Southern Otway Landcare Network and  a member of the Expert Panel advising The Hon. Lily D'Ambrosio, Minister for Environment and Climate Change.
Conservation & Research Assistant: Mark Le Pla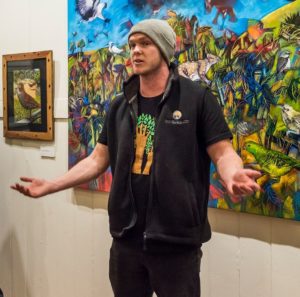 Mark grew up in the eucalypt forests of South East Queensland and completed his Bachelor of Science (Ecology and Conservation Biology) with Honours from Griffith University in 2012. Building on the field skills he acquired through his honours project, a project focusing on birds and floristic features of Eucalypt woodlands, and volunteering for multiple PhD students, he has undertaken bird surveys in a wide array of locations including the rainforests of North Queensland, the Savanna Woodlands of Kakadu National Park and the Mallee country of SW NSW.
Mark completed an internship at the CEC in 2014/15, followed by an internship with the Australian Wildlife Conservancy (AWC) based at Scotia Sanctuary. During this time, Mark broadened his experience and skill set in working with small to medium sized mammals having undertaken several ecological surveys to assess the health and status of several threatened wildlife found in the feral free area of Scotia such as Bilbies, Burrowing Bettongs and Bridled Nailtail Wallabies. He gained valuable experience in arid/semi-arid ecology and the devastating impact feral animals such as cats and foxes have had upon the mammal assemblages of these areas. Mark was then lucky enough to be asked to return to Scotia as a contract Field Ecologist for the rest of 2015. Following this, Mark secured a third internship with Ecological Horizons based in the Ikara-Flinders Ranges National park to assist with field work relating to the reintroduction of Western Quolls and Brush-tailed Possums. Throughout late 2015 – early 2016, Mark spent several months' radio tracking collared animals, capturing animals for health/collar checks, trapping feral animals and assessing camera trapping data. Finally, Mark re-joined the CEC team in early February 2016 as an Ecologist to assist with the CEC's ongoing conservation works in addition to helping to deliver one of the most exciting projects to date, the Otways Threatened Species Research Network.
Conservation and Research Interns
The Conservation Ecology Centre hosts graduates on three month internships during which they gain skills and experience and contribute to all aspects of the operation of the organisation.  Our Interns' key areas of involvement include ecological research, program delivery and wildlife husbandry.
Madeline Brenker – 2016
Madeline has completed a Master of Science with a major in Botany in 2014 at the University of Melbourne, following a Bachelor of Science majoring in Ecology and Environmental Biology in 2012. Enamoured post-studies and from volunteering, Madeline worked as a research assistant and ecologist undertaking mammal population viability analyses, surveying from the Alpine high plains to temperate rainforest and arid scrub, in SE Australia marine research, blue carbon management and planning Green-infrastructure to combat sea level rise. During her CEC internship, she supported the Otways Conservation Dog deployments, built bird-song recognisers, analysed floristic community-dynamics and undertook rare orchid sampling, post-fire vegetation surveys, animal husbandry, and weed management. Continuing her conservation and ecological research Madeline hopes to travel the world and work towards a more sustainable future.
Jarrad Barnes – 2016
After completing a Bachelor of Arts in 2009, Jarrad spent five months on a conservation project in the Peruvian Amazon, giving him hands-on experience with handling and rehabilitating rainforest wildlife. This encouraged him to pursue a degree in Biodiversity and Conservation from Macquarie University, during which time he worked as a reptile husbandry volunteer, research assistant on a floodplain ecology project, and ran an undergraduate project assessing the recolonisation of the university campus by small forest birds. Since completing this degree in 2015 Jarrad has worked as an ecologist in western NSW, and radio tracking bandicoots for a reintroduction project in Jervis Bay. Following his CEC internship Jarrad hopes to become involved with mammal management and reintroduction programs both in Australia and around the world.
Nicole Baboucek – 2016
Nicole has completed a Bachelor of Science (Wildlife and Conservation Biology) with majors in conservation and zoology and a minor in botany. After graduating in 2014, Nicole travelled around Australia which gave her enormous appreciation for the vastness of this great country and the diversity of ecosystems in which our native flora and fauna call home. She has participated in an array of volunteering opportunities including biodiversity and numbat surveys with the Australian Wildlife Conservancy, small mammal trapping in the Simpson Desert and vegetation surveys with Louise Falls' Honours project in the Otways, which led her to her own CEC internship opportunity. Nicole's ultimate job would be to combine her love of ecology with her other love of dogs and become a conservation dog handler.
Annalie Dorph – 2016
After completing a Bachelor of Zoology majoring in Animal ecology and an Honours degree in Zoology, Annalie decided to expand her field experience and learn more about different Australian environments. During her Honours project she studied the vocalisations of the tiger quoll and eastern quoll and the experiences she had with these animals led her to the CEC. Whilst completing her internship Annalie assisted in the revegetation of damaged habitats, radio tracking of koalas and had to opportunity to participate in an Otway Conservation Dogs deployment. From her time with the CEC Annalie plans to advance her career in research of conservation and ecology.
Karen Young – 2016
Karen has a Bachelor of Science in Zoology, an Honours degree in Urban Ecology, and a PhD in Ecophysiology.  She has always been keen on learning as many different things as possible about the natural world and is passionate about acquiring a diverse range of practical experience in science, conservation and communication.  To gain this experience Karen has spent a good deal of time post-qualifications volunteering, interning and working in many different environments and landscapes, with a variety of different wildlife.
Rachael Loneragan – 2016
Bio coming soon!
Emily Scicluna – 2016
Emily has a Bachelor of Biological Science (Advanced Science) majoring in zoology and ecological botany, and is about to commence an Honours year studying the reproductive biology of endangered species Mountain Pygmy Possums (Burramys parvus) to assist their captive breeding. She has a strong passion for conservation research, habitat restoration and biodiversity management. Along with being the Conservation Manager of the BirdLife Melbourne committee, Emily volunteers for a wide range of organisations and projects to increase her knowledge and experience in the field. Emily intends on dedicating life to protecting and understanding Australian ecosystems and believes that humans, those who have a choice and the ability to promote change, have an undeniable obligation to embrace and catalyse the progression necessary to secure a positive future for our wildlife.
Kiarrah Smith -2015/16
Kiarrah holds a Bachelor of Zoology (Animal Ecology) and Honours in Conservation and Wildlife Biology, and is dedicated to the conservation and sustainable management of Australia's unique native fauna and ecosystems. While working with ash-grey mice (Pseudomys albocinereus) in her Honours project, she developed a special love for the amazing diversity of native rodents in Australia (there are over 60 species!). Kiarrah believes encouraging widespread understanding and appreciation of Australia's less charismatic wildlife is vitally important in supporting the persistence of these species into the future. Kiarrah hopes to contribute to the reintroduction and sustainable management of locally extinct species throughout her career.
Amy Smith – 2015/16
Amy completed a Bachelor of Science with Honours in Zoology at La Trobe University in 2014. In her honours research she studied the effects of Malleefowl mound building on fire behaviour in the Victorian Mallee. While at the CEC Amy became well practiced in tracking koalas (and collecting scat!) and enjoyed learning more about the local native flora. She hopes to continue working in research and conservation in the future.
Louise Falls – 2015
Louise completed her Bachelor of Science at La Trobe University in 2013 studying Wildlife & Conservation Biology. Her degree allowed her to gain field experience whilst travelling to some of Australia's most beautiful natural environments including the mallee, Wilsons Prom & Heron island. Her love for animal conservation and also volunteering to increase her knowledge lead her to the CEC. She is completing her honours in 2016 with the assistance of the CEC, studying the distribution of the threatened Long-nosed Potoroo within the Otway Ranges. Louise hopes to build a future career in wildlife and conservation research.
Linda Brown – 2015
Coming from Germany, Linda completed her Bachelor of Science in Biology in 2011 which included a thesis about soil fauna and litter decomposition in tropical montane forests in Ecuador. In 2011/ 2012 Linda lived in Australia and worked a bush regenerator, completed an internship at the CSIRO in Canberra and co-published a paper on the distribution of the invasive Portuguese millipede. In 2015 she graduated from Georg August University with a Master of Science in Biodiversity, Ecology and Evolution. For her thesis she studied genetic variation of forest antelopes in Cameroon. Linda, now a permanent resident of Australia, is planning a career in wildlife and conservation research.
Pete Lancaster – 2015
Pete completed a Bachelor of Science majoring in Zoology and Conservation of Australian Wildlife in 2009 and an Honours degree in Animal Behaviour, studying the social behaviour of a native skink. Spending time with the People and Conservation department of SANParks in South Africa led Pete to focus his career on community engagement in conservation, and he arrived at the CEC wanting to get back in touch with "in the field" conservation and to get his hands dirty. That happened when he got involved in the Great Otway Tree Plant and spent afternoons repairing tree guards. He grew a beard to keep his face warm during the cold winter months which was one of his best decisions. He also assisted with whatever was happening; native and feral species monitoring, admiring quolls, and assessing plant regeneration after fire and the deployment of the Otway Conservation Dogs. His future will be sure to involve animals and their conservation.
Laura Patience – 2015
An aspiring ecologist and conservationist, Laura completed her Bachelor of Environmental Science (Wildlife and Conservation Biology) from Deakin University early in 2015. Her degree took her to Borneo, Peru and Canada to study, as well as out in the field throughout Victoria. She rarely passes up an opportunity to get out into the field, and this enthusiasm for wildlife field work was what brought her to the CEC. During her internship she has travelled to the Grampians twice to assist with deployment of the Otway Conservation Dogs. She has also assisted with fauna surveys and on-going research.  Following her internship Laura looks forward to building a career in wildlife conservation and research.
Kaarissa Harring-Harris – 2015
Bio coming soon!
Mark Le Pla – 2014/15
After completing his Bachelor of Science with Honours from Griffith Universities Gold Coast campus in 2012, Mark has been travelling Australia working on a variety of conservation projects. His fascination with all things biological has led him to assist in field work across a range of taxa from the rain-forests of North Queensland to the arid zones of central Australia. Throughout his internship with the CEC he assisted with the ongoing monitoring of fauna sites by undertaking botanical surveys, bird surveys, nocturnal spotlighting and call-playback surveys. As he also has a background in ecological interpretation and presentation, he took every opportunity to assist in interpretive dusk walks for guests staying at the adjacent Ecolodge. After completing his internship with the CEC, he has since gone on to undertake another internship with the Australian Wildlife Conservancy (AWC), based at Scotia Sanctuary. He has vowed to return to assist as a volunteer in the future.
Benjamin Huttner-Koris – 2014
Bio coming soon!
Amy Smith – 2014
An aspiring zoologist from Victoria, Amy recently completed a Bachelor of Science (majoring in zoology, conservation biology and ecology) from Monash University. She is currently working on a publication from her honours research on the population genetics of aquatic invertebrates from arid Australia. While at the CEC she has been doing lots and lots of tree planting as well as looking after and creating enrichment for the CEC's animal residents. She hopes for a career that involves animal care and the conservation of Australia's animals and environment.
Sarah Mulhall – 2014
Sarah graduated from Monash University in 2008 with a Bachelor of Arts/Science (Hons).  For her Honours Sarah investigated the urban ecology of Crested Pigeons in Melbourne.  After five years of working in statistics, Sarah decided it was time to go back to her ecology roots and enrolled in a Master of Environment at the University of Melbourne.  Whilst at the CEC Sarah has planted a lot of trees and spent a lot of time listening to and identifying bird calls as part of a survey of Cape Otway fauna.  Following her internship she is hoping to build a career as a research ecologist.
Paul Kelley – 2014
Bio coming soon!
Yani Cornthwaite – 2014
Bio coming soon!
Marika van der Pol-2012/13/14
Marika's back!  Since her internship in 2011, Marika has worked as an environmental consultant in northern Alberta, monitoring birds as part of the Regional Avian Protection Plan. She also worked in Tasmania, studying the endangered 40-spotted pardalote, before returning to the Conservation Ecology Centre. During her time at the CEC, she has helped to develop wild Tiger Quoll search methods, studied manna gum germination and seedling establishment as part of the habitat restoration project and taken on a range of engagement responsibilities.
Simone Thompson – 2013
Having recently completed a Bachelor of Science (majoring in zoology and conservation biology) at the University of Western Australia, Simone is working on a publication from her honours thesis on the pack behaviour of African painted dogs at the Perth Zoo. Here at the CEC, she is currently acting as surrogate mother to our koala joey Danny, alongside fellow intern Maria – an exhausting but highly rewarding experience. With a wealth of conservation experience by volunteering in Costa Rica and throughout Australia, Simone hopes for a bright future in the field of zoology.
Maria Aurora Kalmari – 2013
Coming from Finland, Maria has completed Bachelor of Science in Biology from northern Norway and Master in International Law from Finland. As an aspiring conservationist, she is continuing with Master of Science in Marine Biodiversity and Conservation in Europe with the dream of combining scientific research with legal impact in future conservation. Maria has done promising and soon to be published research on little penguin conservation in Tasmania, engaged in photo-identification of cetaceans in Norway and is passionate about studying animal behaviour. Conservation and rescue work with koalas, kangaroos and tiger quolls and being able to raise and release a koala joey back into the wild with CEC has made Maria realize that conserving native wildlife is her path to follow.
Nicole Vesey – 2013
Coming from the United States, Nicole graduated from Western Connecticut State University with a bachelors degree in Biology. Previous research includes work on Candlewood Lake, located in Connecticut, to determine what will aid in the efforts to eradicate the problematic invasive Eurasian milfoil weed species. Still on the track of figuring out if medical school is her calling, Nicole does know that she has a passion for the environment and animals and for the rest of her life will continue to help with conservation efforts across the world in any way she can.
Allison McGrath – 2013
An aspiring conservationist from the United States, Allison graduated from the University of Virginia with degrees in Economics and Philosophy – though not the usual requisites to a career in conservation ecology, Allison quickly realized the traditional office life was not for her and as a life-long nature lover decided to try her hand at environmental research and field work. Before joining the CEC, she spent 2 months in Costa Rica volunteering with a sea turtle research project and has headed off to research whales at Hervey Bay. She plans to pursue a graduate degree in the environmental field.
Hannah Bannister – 2013
Hannah completed a Bachelor of Science (majoring in zoology and conservation biology) in 2012 at the University of Western Australia. She has spent time gaining valuable practical experience with Australian fauna as well as spending time volunteering with wildlife in south-east Asia and is embarking on a career focusing on wildlife conservation both in Australia and overseas.
Magdalena Kalus – 2012/13
Maggy graduated in 2011 from the Ludwig-Maximilan-University in Munic, Germany, as a veterinarian with specific interests horses and wild animals. She contributed in many different wildlife projects all over the globe including Africa, America and Europe including working cheetah and leopard conservation, rehabilitation of zebras and horse care. In Germany she is completing her doctoral thesis in animal behaviour and neurosciences.
While here in the Otways, she is assisting with the rehabilitation of injured or orphaned wildlife and data collection for the manna gum restoration experiments.  Maggy's position here is thanks to Tourism Australia's 2012 competition for work and travel students.
Emily Driscoll – 2012
Emily graduated with a Bachelor of Science (major in Veterinary Bioscience) from the University of Melbourne in 2012 and is now continuing into her second year of the Doctor of Veterinary Medicine postgraduate degree.  Emily grew up locally and has worked in the Forestry and Fire field over the summer break for the past 5 years. She has also spent a season working with koalas at Mt Eccles National Park as part of the Victorian Koala Management Strategy. She has been assisting with wildlife husbandry and data collection for the various research projects, particularly contributing to management plans for the resident Tiger Quolls.
Lindsay Wickson – 2012
Coming soon!
Sabine Schleime – 2012 Sabine studied English and Social Sciences at the University of Munster, Germany where she will complete Masters to become a secondary school teacher.  She is particularly focusing on seedling establishment trials as part of the habitat restoration component of the Koala Conservation Program and invasive species management projects.
Ulrike Gollmick – 2012 With a background in banking Ulli brings a very different background to the CEC.  Ulli graduated in 2011 with a Bachelor of Arts in Business Administration from the University of Applied Sciences, Berlin, Germany and she is working with the CEC while on sabbatical. Ulli is involved in strategic planning and a number of projects including investigating Eucalypt dieback and invasive species management.
Marston Jones – 2012  Marston graduated from Emory University in Atlanta, Georgia, with a Bachelor of Science in Environmental Studies, and a focus in Ecology.  His research experience includes work aimed at determining baseline health levels for both endangered chimpanzees and the critically-endangered black rhinoceros.  This conservation work has pushed him to seek work with organizations that aim to protect and learn from the environment.  Marston's work included setting up our seedling establishment trials to determine why young Eucalyptus viminalus (Manna Gum) trees are not emerging on Cape Otway.  He also aided in data collection for invasive animal surveys using camera traps, and helped to manage fox-trapping efforts located across Cape Otway.
Tom Quigley – 2012 After graduating from Emory University in 2011 with a BSc in Biology and a minor in Environmental Science, Tom has been traveling and writing for a number of online publications. His research experience includes study on the parasitoid predators of caterpillar in New Mexico with Tulane University, research on West Nile Virus prevalence and mosquito prevention in urban Atlanta with Emory University, and briefly with lobster chemosensory navigation with Boston University. At the CEC, Tom assists in data collection as part of the Koala Conservation Program and soil testing different regions in the area to assist with gaining insight into the cause of the Eucalyptus dieback.
Katlin Miller – 2012 Katlin received her Bachelor of Science in Wildlife Biology in 2008 from Colorado State University and has since been travelling around the world performing volunteer work for a variety of conservation organizations to develop her field skills.  So far, she has surveyed seabirds and larval crab in Alaska, studied African wildlife in Namibia, worked with sea turtles in Costa Rica, cared for orphan seals in the Netherlands, and joined a Students on Ice trip to Antarctica.  While here at the CEC, Katlin assisted with monitoring the local koala population, working on the development of endangered species detection techniques, assisting with habitat restoration and building habitat resilience.
Tim Flynn – 2012 Tim is a Research Assistant with a difference – like all our interns he has has made a great contribution to the work of the CEC, however, he has never actually set foot in the Otways!  Tim graduated from Worcester Polytech Institute in 2011 with two degrees in Robotics Engineering and Computer Science. He is currently working towards a Master of Science degree in Computer Science, expecting to graduate in May 2012. The main focus of his studies has been robotic controls, artificial intelligence, and software engineering. After graduation, Tim will be working for ViaSat, Inc. in the U.S. with the Acceleration Research and Technologies division; there, he will help to design, analyze and implement unique software-only algorithms for network acceleration purposes.
From the US Tim developed the FoliageFinder program for the CEC to analyze photographs of plant foliage by pixel and determine green-foliage to blue-sky ratio.  We have found this program invaluable for quickly and effectively assessing habitat condition to analyse habitat decline in Manna Gum Woodlands.
Marika van der Pol – 2011/12 Marika holds a Bachelor of Science majoring in Biology from the University of Alberta, Canada.  She has field experience from north central British Columbia monitoring northern flickers with the University of Saskatchewan and surveying long-toed salamanders as an amphibian research assistant with the University of Northern BC where she was also involved in community outreach conservation programs.  Marika worked with Julia on intense data collection as part of the CEC's Koala Conservation Program.
Julia Puzak – 2011/12 Julia completed a Bachelor of Arts majoring in General Biology at St Mary's College of Maryland, USA, after studying plant defence mechanisms in the Amazon rainforest, monitoring estuarine vegetation in the Chesapeake Bay National Estuarine Research Reserve and marine interpretation and education in Maine.  Julia worked with Marika on intense data collection as part of the CEC's Koala Conservation Program.
Sarah Rowlands – 2011 Sarah holds a Bachelor of Science in Zoology from Cardiff University and her field experience includes studying the endemic weevil in the rainforests of Madagascar where she also taught English and assisted rainforest guides with tourism and conservation work. Sarah worked with Chelsey studying the behaviour of the CEC's resident tiger quolls to gain valuable insights for surveying the wild population and collecting data for CEC's Koala Conservation Program.
Chelsey Stephenson – 2011 Chelsey graduated from the University of California with a Bachelor of Science in Biology.  She has lab experience with recombinant DNA technology and experience in education through teaching English in Thailand.  Together with Sarah she studied the behaviour of the CEC's resident tiger quolls to gain valuable insights for surveying the wild population and collected data for CEC's Koala Conservation Program.
Eliza Carpenter – 2011
Eliza is carrying out her Honours through the University of Sydney, studying the conservation genetics of the Otway Koala population. There are many large and thriving koala populations in Victoria, but most of these were reintroduced to the Australian mainland from small founder populations, after koalas were hunted nearly to extinction in the early 20th century. When animals have come from small founder populations they may lose genetic diversity, which can in turn effect their ability to adapt to natural selection pressures, ie their "fitness". She hope to gain a better understanding of the genetic makeup of these reintroduced populations of koalas, and the implications for management.
Andrew Wighton – 2011 Andrew holds a BA in physical anthropology and worked at San Diego Zoo.  He joined us for several months of intense fieldwork as part of the CEC's Koala Conservation Program.
Amanda Orlowski – 2010 Amy joined us to assess the effect of tree canopy defoliation on small mammal and bird assemblages at Cape Otway for her Honours through Deakin University. She was awarded First Class Honours.
Last, but certainly not least, are our community volunteers – they have become a dedicated, skilled and hard working team who return to us each month to help with ecological surveys, habitat restoration or the development of conservation dogs. It makes a big difference to have the extra hands (and eyes!) helping out on the surveys and since completing their training sessions the volunteers have been extremely effective in collecting high quality research data. This builds capacity not only for our own organisation, but for the local community as well since many of our volunteers are members of other local organisations.
Research Opportunities
Learn more about Conservation and Research Internships.  If you're interested in undertaking research with the Conservation Ecology Centre,  contact us.
If you have completed an internship with us but are not included in the list above or would like to update your bio please contact us!