Otway Threatened Species Research Network
"The Otways Threatened Species Network is a group of conservation researchers and land managers working to improve conservation outcomes for Threatened Species in the Otways by facilitating collaborative research and ensuring that all outcomes are communicated to relevant stakeholders."
Australia's mammal extinction record is the worst in the world – over the last two hundred years 29 mammal species have become extinct. The causes of these extinctions, and the continuing decline of our most threatened species, include habitat loss and fragmentation, changes to ancient land stewardship practices and the introduction of pest plants and animals. Despite a public reserve system covering 13% of the continent, populations of threatened species continue to decline – the single largest factor limiting our ability to conserve vulnerable species is our failure to adequately understand the complex ecosystems of the country and the biology and ecology of our unique flora and fauna.
In the Otways we are fortunate that our forests support populations of threatened species which have been lost from many other places.  These spec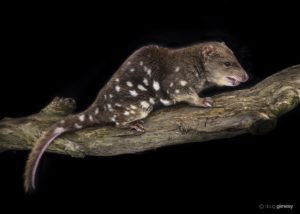 ies include the Tiger Quoll, Australia's largest mainland marsupial predator, and the Long-nosed Potoroo. The region also supports many endangered plants such as the Leafy Greenhood Orchid. In order to ensure the future of these threatened populations it will be critical to understand their dynamics and how they interact with their habitat.
With the support of The Ian Potter Foundation, we have created the Otways Threatened Species Network (OTSRN), including partners across a range of Universities, Government Agencies and NGOs.
The goals of the Network are to:
Improve the quality and quantity of data to inform threatened species management in the Otways.
Act as a hub – a port of call – to pool resources and data to publicly inform management of threatened species in the Otways.
Be a reputable collaboration of researchers and managers providing mutual support for each others' goals (including financial where appropriate).
Provide the latest research, knowledge and advice required to improve threatened species and land management across all Otway land tenures.
Advise the urgent action of land managers to save species from extinction in the Otways.
 If you are interested in joining the network and receiving updates then please contact Dr Jack Pascoe jack@conservationecologycentre.org