Conservation Research Scholarships
Long term conservation outcomes are based on rigorous science. We are currently welcoming applications from researchers for financial assistance and research support for projects with clear application for conservation.
Our current focus is on the Threatened Species of the Otways and how threatening processes and management practices will influence their long-term viability.
The scholarship will support Honours level students conducting research projects commencing in either first or second semester 2017. We are willing to discuss how relevant Masters and PhD projects may also be suitable. The scholarship is up to the value of $5,000.
We strongly suggest that researchers contact the CEC to discuss their project prior to lodging an application. The contact for these discussions is CEC Conservation and Research Manager Dr Jack Pascoe jack@conservationecologycentre.org
Research Scholarship – Application details
Past and Current Scholarship Recipients
Louise Falls, La Trobe University
The impacts of environmental gradients on the distribution of the Long-nosed Potoroo (Potorous tridactylus) in the Otway Ranges
This project aims to study the environmental factors which affect the distribution of the threatened Long-nosed Potoroo (Potorous tridactylus) in the Otways. Long-nosed Potoroos distribute the spores of ectomycorrhizal fungi which form symbiotic relationships with a number of forest trees, particularly eucalypt species (Vernes and Jarman 2014). The Long-nosed Potoroo therefore plays a critical role in maintaining a healthy Otway's ecosystem. Unfortunately this species is under threat, a reduction in numbers due to habitat fragmentation and predation by introduced species such as the red fox (Robley et al. 2014). As the Long-nosed Potoroo greatly contributes to the Otways ecosystem, determining its preferred habitat is essential in order to further manage and protect this valuable species (Frankham et al. 2011).
This project aims to study the occurrence of the Long-nosed Potoroo in relation to three factors; vegetation gradients covering a number of ecological vegetation classes, EV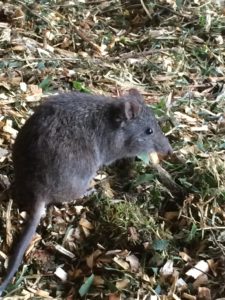 C's from coastal vegetation types to wetter forest communities at higher altitudes, habitat associations at a finer scale and fire history. In addition, associations between the Long-nosed Potoroo and other small mammal species comprising native mammal assemblages will be examined.
We hypothesise that the Long-nosed Potoroo will occur in a number of vegetation communities and will vary in their habitat associations at a finer scale as seen in previous studies. Past research into fire history and its impact on small mammals have varied results. Bennett (1993), discussed the importance of fire in encouraging dense ground cover, critical habitat for small mammals whereas Norton et al. (2010), discovered individuals were more frequently found in long unburnt areas. This information suggests that the Long-nosed Potoroo requires a mosaic of habitat types and ages, on both a macro- and microscale (Bennett 1993; Norton et al. 2010). We also hypothesise that Long-nosed Potoroos will be found in diverse small mammal communities as an indicator of resource availability and quality of habitat (Bennett 1993).
Frankham et al. (2011) emphasised that the ecology of the Long-nosed Potoroo is strongly influenced by local environmental conditions.  This therefore highlights the need to understand the specific ecology and influences on the distribution of the Otways population of Long-nosed Potoroos when developing future management strategies.
Ben Moore, Michaela Blyton and Kylie Brice, Western Sydney University
Characterising koala diet composition with faecal DNA analysis
Koalas are famous for being fussy eaters. In fact, their diets are usually made up of only a few of the hundreds of available species of eucalypts, because different eucalypts conta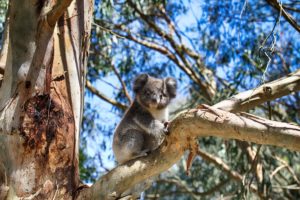 in different types and amounts of toxins and nutrients, affecting their nutritional quality. Therefore it follows that if we know what koalas are eating, we can explain a lot about their health and behavior. Unfortunately, knowing exactly what wild koalas actually do eat is very challenging. This project will use new advances in DNA analysis – "metabarcoding" using "next-generation sequencing"  – to detect trace amounts of plant DNA in koala faecal pellets that can be matched up to a library of DNA from all possible eucalypts in an area. With this new research tool, we will be able to understand what koalas translocated from overbrowsed areas at Cape Otway eat in their new habitat and learn how well they cope with the move. We will be able to monitor more closely how flexible koalas are in the food choices when their favourite foods become unavailable. Finally, we will be better able to link koala diets to the communities of gut bacteria that help koalas to digest their food and which are a vital key to koala health and survival.